Home
Basic Cat Grooming Techniques – books by Svetlana Broussova
Want to know more about our Cat Grooming Books, follow this link.
Grooming Shorthaired Cats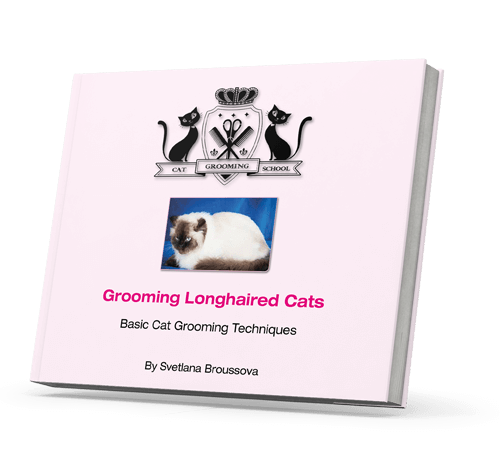 Grooming Longhaired Cats
Cat Grooming Techniques (PDF)
Cat Grooming Courses
The Cat Grooming School offers a wide range of cat grooming courses, across all levels of experience, providing expert tuition and first-hand practice in grooming cats. All courses are held in our state-of-the-art cat-grooming salon in East London.
Whether you are looking for a fun new hobby or begin an exciting new career, we have a course to suit you. We go beyond the practice of cat grooming, to business management, cat welfare and cat behavior – everything you need to know to become a successful professional.
Advanced Workshops
Enhance your cat grooming skills and give your clients the best service possible by attending one of our one-day workshops. The day consists of lectures and expert demonstrations with professional cat groomer and head of the Cat Grooming School, Svetlana Broussova.
Our Recent Graduates
Wishing you all the best Elaine from Surrey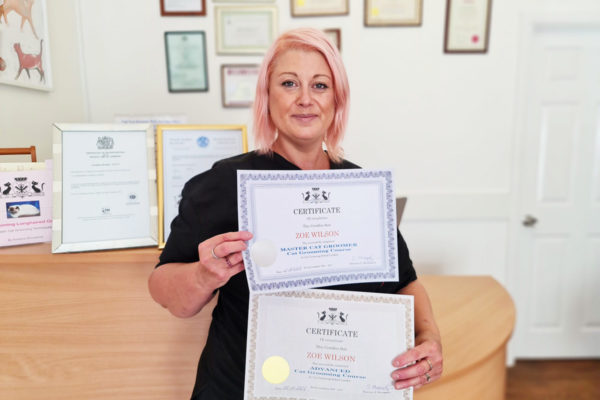 Zoe Willson – Master Cat Groomer
Happy students Sue and Dianne celebrating their graduation with Svetlana
We all have fun when we are learning!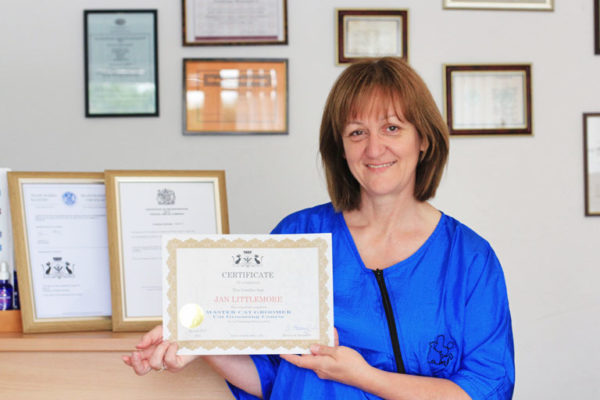 Jan Master Cat Groomer and Cat Masseuse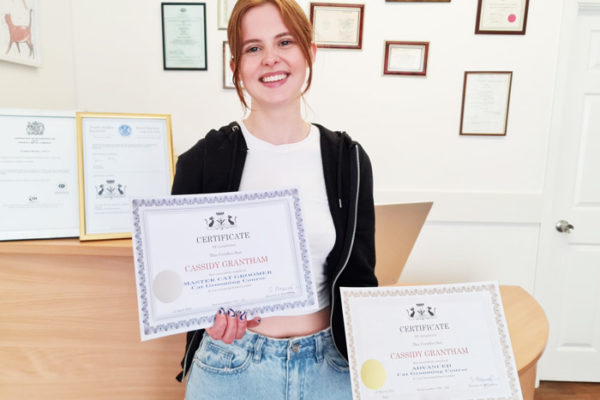 Cassidy Grantham's certificate
Best school – best students!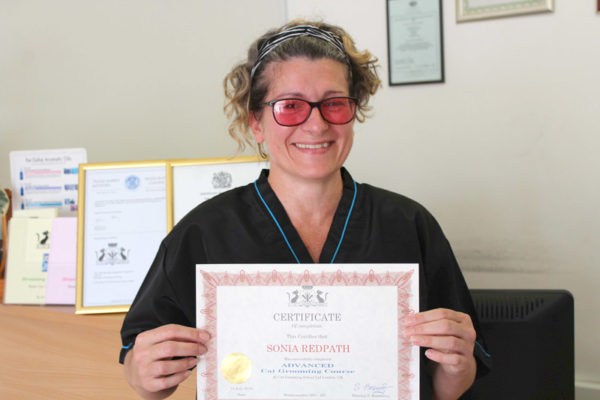 Well done Sonia!
Congratulations to Sara from West Sussex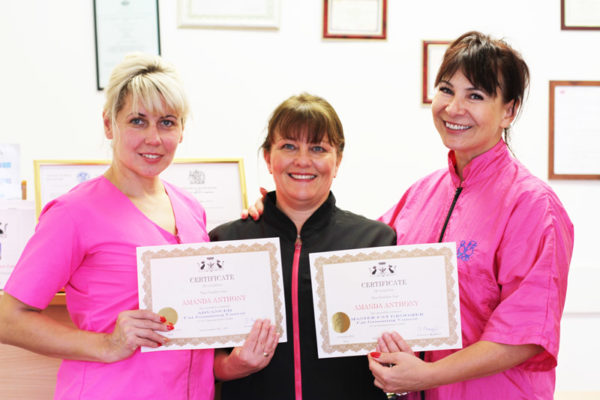 Congratulations Amanda!
Congratulations Alexandra!
Liliana graduated Master Cat Groomer
Well done to our new Masters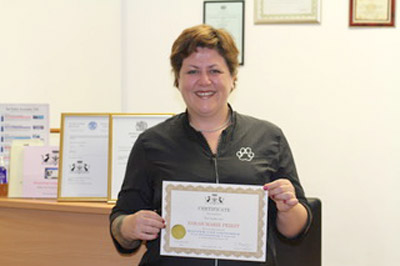 Smashing Sarah Marie from Doncaster
Huge congratulations to Weiwei from Shanghai! We wish her all the best in her new business!
Louise Laird – Master Cat Grooming
Testimonails
Jessica Drenthen
Seminar in Netherlands (2015)
Besides being a groomer I'm also the founder of a Dutch grooming school De Trimacademie, for both cats and dogs. On my request Svetlana came to the Netherlands to visit our school. She met some of the students, went through our curriculum, has been brainstorming with us about the future of our business and has coached me and my staff. She is a smart business woman with excellent knowledge and skills in cat grooming and marketing. We are looking forward to our staff session at the Cat Grooming School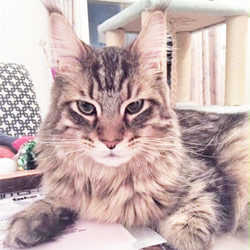 Koa
I never really enjoyed being groomed before but after spending a day at grooming school, where my Mummy learnt how to brush me the correct way, I enjoy it much more. Svetlana is a very patient teacher and Mummy is more confident now. We even bought Svetlana's book (which I've got under paw) for those times when Mummy needs reminding of a particular technique. Thank you Svetlana for helping us enjoy our daily brushing.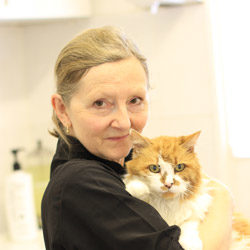 Carolyn Eykyn
Svetlana after a fascinating taster day in your salon with you I now feel I want to know all I can about grooming cats. You were patient with my inexperience and in one short day I learned so much. I had the chance to groom 3 cats myself and clip their claws. I also observed you carrying out bathing of 2 cats as well. I was amazed to see that cats can actually enjoy being bathed! I now intend to do the full master course. Many thanks for a
Valentina Morozova
I feel words may fail to truly explain my gratitude for the life changing experience I had when I recently attended the "Bathing, blow drying and styling cats" cat grooming workshop at Pet Universe hosted by Svetlana. Thank you for the opportunity to do the course as it fulfilled all my expectations.
Sonia Redpath
Svetlana Broussova offers courses that contain a high level of knowledge and experience. Over and above the qualifications of being a Veterinary Surgeon, she has many years of experience of working with many cats, many types and temperaments. You are taught Cat whispering and handling over and above anything because Svetlana says you must have this before you think you can cat groom. She has a very good team member in Edita for extra student support and the content is extensive. You will work hard but the rewards are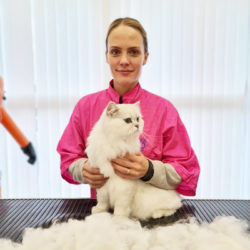 Mary Wise
I really enjoyed the introductory course and came away with a lot of knowledge already! The trainer Edita was clear and patient. Having no prior grooming experience I was nervous how I would do, but I feel confident this is the career path for me and I can't wait to begin the intermediate course ad beyond. The Cat Grooming School have extensive knowledge which they are happy to share and obvious love of cats.
Zoe Willson
I've just graduated as a Master Cat Groomer with the Cat Grooming School. I started with the Foundation course in February and I can't believe how far I have come! Its been a crazy journey but I have learnt so much about cat grooming (obviously) but also about myself. Edita, my tutor has been absolutely amazing! She's so kind and patient and has been there from day one being so supportive. Her knowledge and experience has been key to me being able to go from strength to strength with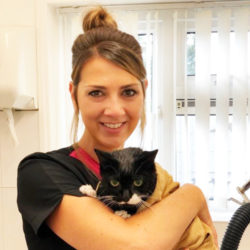 Louise Laird
Having been an owner and lover of cats all my life, the thought of being able to not only work with cats but also help them was the real motivation behind pursuing something I love by becoming a cat groomer. I was fortunate to have the opportunity to give up my career in risk management and embark on my cat grooming journey. I wanted only the best tuition as I know cats are not the easiest of animals to deal with. Having done much research, the Cat Grooming School